Smart Based Pigging Solutions
Cathodic Protection Solutions LLC has partnered with Visual Driven Technology (VDT) to provide our clients with the most intelligent smart based pigging system in the marketplace.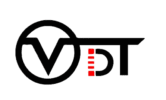 Transmitters and Receivers
Designed exclusively for the pigging industry, the VDT TracMaster™ Pig Tracker and Locator provides a visual display as well as an audible signal of stopped or moving pigs in a pipeline. The need to "walk and stop" is eliminated with TracMaster because extraneous signals and noise is filtered out as it accurately detects, reports and stores pig passages, locations, times and dates.
Pigging activities are reported via a simple, graphic menu system and a display that reveals the distinctive pulsing pattern of a passing pig plus quick, precise locations of stationary pigs. This information is provided for on-site viewing and printed reports, and is transferrable to the desktop PCs.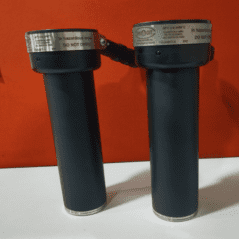 Ultrasonic Testing
Ultrasonic testing (UT) comprises a range of non-destructive testing (NDT) techniques that send ultrasonic waves through an object or material. These high frequency sound waves are transmitted through the materials to characterize the material or for flaw detecting. Access to only one side of the component is needed. There is no radiation hazard in ultrasonic examination, and hence no disruption of work unlike radiography. Volumetric and crack-like defects can be detected, irrespective of their orientation.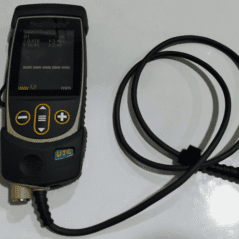 Differential Global Positioning System
"Differential Global Positioning System (DGPS) is an enhancement to the Global Positioning System that provides improved location accuracy, from the 15-meter nominal GPS accuracy to about 10 cm in case of the best implementations. DGPS refers to using a combination of receivers and satellites for reducing/eliminating the common receiver based and satellite based errors reduce orbit errors reduce ionospheric and tropospheric errors reduce effects of SA eliminate satellite and receiver clock errors improve accuracy significantly 100's of meters to meters to centimeters to millimeters.
"By using DGPS, we can improve our positional accuracy from around 1.5m with standard GPS to around 40cm with DGPS, without the need for post-processing."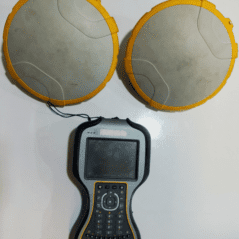 Cathodic Protection
Cathodic protection is a common method used in various industries that uses a low electrical current to prevent corrosion of metal structures such as pipelines, tanks, steel-pier piles and offshore oil platforms. Cathodic protection is the most common electrochemical technique used to prevent corrosion on buried metallic pipelines where the applied coating has failed or been damaged exposing bare pipeline metal to the soil.