Pipeline Pigging Supplies | Pipeline Pigging Service
Cathodic Protection Solutions LLC for pipeline pigging supplies with free delivery in Midland and the Permian Basin. We also provide expert pipeline pigging service.
For free delivery in Midland, please call (432) 230-6955.
Solid cast pipeline cleaning pigs have the same flexibility and easy handling as foam pigs combined with the durability and sealing capacity of steel pigs. The one-piece design allows the pig to expand with the inside pressure of the pipeline for maximum sealing capacity.
Each solid cast pig is customized by durometer, typically, pipeline cleaning pigs are manufactured with a 70-75 durometer which is firm but also flexible. For softer and more flexible pigging, we recommend the 65 durometer. For firm and less flexible, we recommend the 80-85 durometer pig. Since no two pipelines are the same, we recommend a custom pig selection for each pipeline. Contact us for a consultation of pipeline pigging options.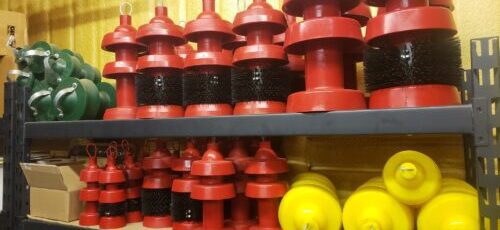 We carry the below Pigging Products and more:
Product Displacement Pig , or PDP, offers batching and displacement of the Products in lines with 1.5 degree bends. With multiple sealing discs, cross-contamination and bypass are no longer a problem.
SWP. Achieve higher efficiency in product displacement, batching and liquid removal with the SWP product line evacuators. SWP will ensure that less product will be wasted, and will also help produce more efficient, faster processing results.
VPR. The VPR design has tight scraping/sealing rings that are made for extra flexibility and negotiating fittings. The durable design ensures a liquid-tight seal for maximum efficiency.
For free delivery in Midland, please call (432) 230-6955.
We also provide expert pipeline chemical cleaning, chemical optimization and treatment for internal corrosion control in oil and gas pipelines. Our pipeline chemical cleaning service selects the best formula of chemicals to effectively mitigate pipeline corrosion, please see more at Pipeline Chemical Cleaning.
View the smart based intelligent pipeline inspection services.